Luckily, Yeoman Shield's wall and door protectors can help with all of these factors and more. Our protection systems are designed as an all-round solution to many of the problems faced by hotels and leisure centres in their interior design. Read on to find out more.

Hygiene

A key consideration in your leisure centre or hotel is maintaining proper levels of hygiene. This is usually carried out through daily cleaning of surfaces such as walls, floor and doors, however such a frequent cleaning regime can cause wear and tear on a building's interior. Our wall and door protectors are designed to be easily cleanable and withstand daily intensive cleaning, ensuring the longevity of your interior design.

Our protection systems are also inherently hygienic thanks to being manufactured from "rigid" PVCu materials, which discourage the growth of bacteria, mould and fungi. This ensures that the spread of harmful bacteria is minimised in between cleaning sessions.

Our protection systems also reduce the number of scratches and dents that a wall or door can suffer from everyday pedestrian traffic. These dents can prove difficult to clean and harbour infections and bacteria; by reducing this damage hygiene will also improve as a result.

Saving redecoration costs

For many hotels and leisure centres, frequent redecoration is just a consequence of being in the business. High levels of traffic on a daily basis, as well as scrapes and scuffs from bags and trollies, quickly cause an interior to look shabby and worn and so repainting and redecoration is required.

Our wall and door protectors vastly improve the lifespan of your interior design by protecting against this damage. Not only does this keep your business looking presentable and tidy, but also can save hugely on redecoration costs in the longer term.

Fire safety

The safety of your customers and staff is paramount, and keeping fire doors fully up to RRO standards and fit for use is essential. However, with the daily use that these doors can get, they often receive micro-damage which builds up over time to make them unsafe. We offer a full range of door protection to ensure your fire doors remain safe to use.

Installation of our fire rated door protection products is carried out by directly employed fixing operatives under FIRAS best practice guidance.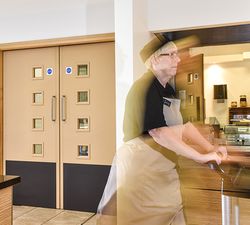 Brand image and identity

It's also important that you don't compromise your brand imagery when upgrading your interior design. We have designed our wall and door protection in a wide variety of colours, allowing you to choose the option which best suits your brand. In addition, we also offer our wall protection in customisable imagery and shapes, allowing you to include your logo or other design of your choice.

Have any questions about using our products in Hotel and Leisure? Contact us today on 0113 279 5854 with your enquiry!